COCKTAIL ENTHUSIASTS!
For those who geek out on cocktail creations, tales behind drinks, and winning bar tools to up their home bar game.
home bartender's STARTER KIt!
Starting things off with that one-stop-shop for people looking for the get the basic tools to start and/or enhance their home bar. Bull In China, known for creating their quality fine barware–has got the good stuff with this kit of a: Boston shaker, Hawthorne strainer, fine mesh strainer, and 2 jiggers (2:1 & 3/4:1/2).
$38
El Guapo Bitters makes some of my faaaavorite bitters and syrups. Everything they do is delicious, small batch, locally sourced, and handmade with love from New Orleans, Louisiana.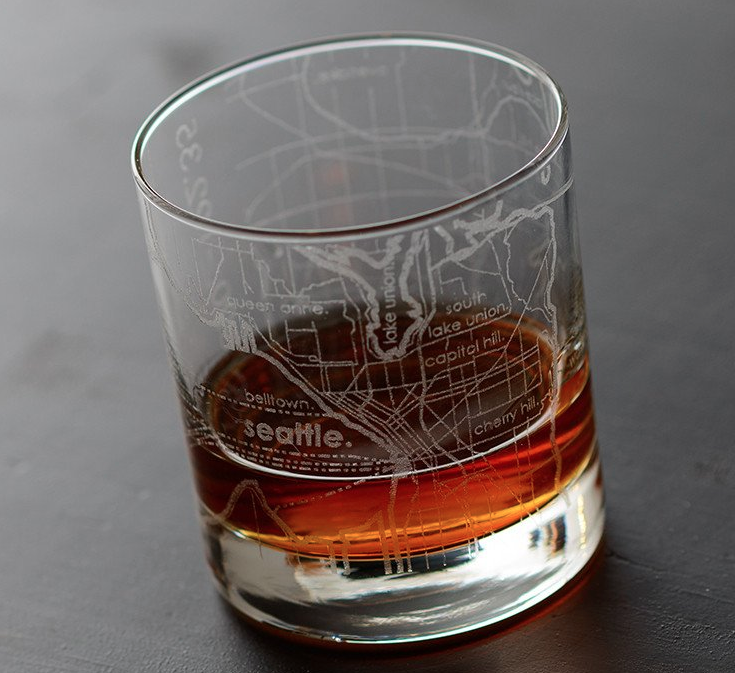 These will forever be on my gift guides. Why? Um, because I freakin' love them. Awesome presents for...well anyone! Get someone a glass from their hometown, favorite vacation spot, or some other place that holds a special memory. Pick the glassware style, pick the location, can't go wrong!
(Styles available: Rocks Glass, Stem Wine Glass, Stemless Wine Glass, Pint Glass, Mug, etc!)
$ - $$ (Depending on style)
Let's play our part here and ditch them ol plastic straws. Not only are stainless steel straws sleek and make your drinks look way cool–but they're also friends to the environment and a great accessory to have at your home bar.
What I dig about this set is that it's a variety pack of various sizes (6.3", 7.1", 8.5", and 10.5").
$15
I am OBSESSED with these ice trays. I know, you're probably thinking, "How great can an ice tray really be?" Well, let's just say, my life has changed. Get those perfect molds right and with sooo much easy!
$14
moscow mules are like, so in right now.
If you're going to get a copper mug…get a real copper mug. Like the ones you pick up, and you're like…man, now that's a copper mug. And Cocktail Kingdom has got you covered there! These Moscow Mule mugs do not disappoint. Aka, they're my personal favorite.
$16
"Stare down the Empire's ultimate weapon with every sip. Once frozen, peel back the flexible silicone mold to reveal your own Imperial battle station."
$14
Go, go gadget cocktail! 10 gadgets in 1, for all y'all who don't have room for the endless barware out there. Mainly, I'd recommend this tool if you're going over to someone's place and you wanna mix things up, but you know they don't have the gear to do so. The Swiss Army Knife for drink making!
$35

Hella Cocktail Co. is always there with the bold flavors and kickass ingredients. I mean…who better to craft together a home bitters making kit? They bring the satisfaction of making fine tinctures and extracts into the home of cocktail lovers and foodies everywhere.
(Psst. They also make other DIY kits that are pretty sweet, like: Old Fashioned, Margarita, Bloody Mary, and Moscow Mule).
$60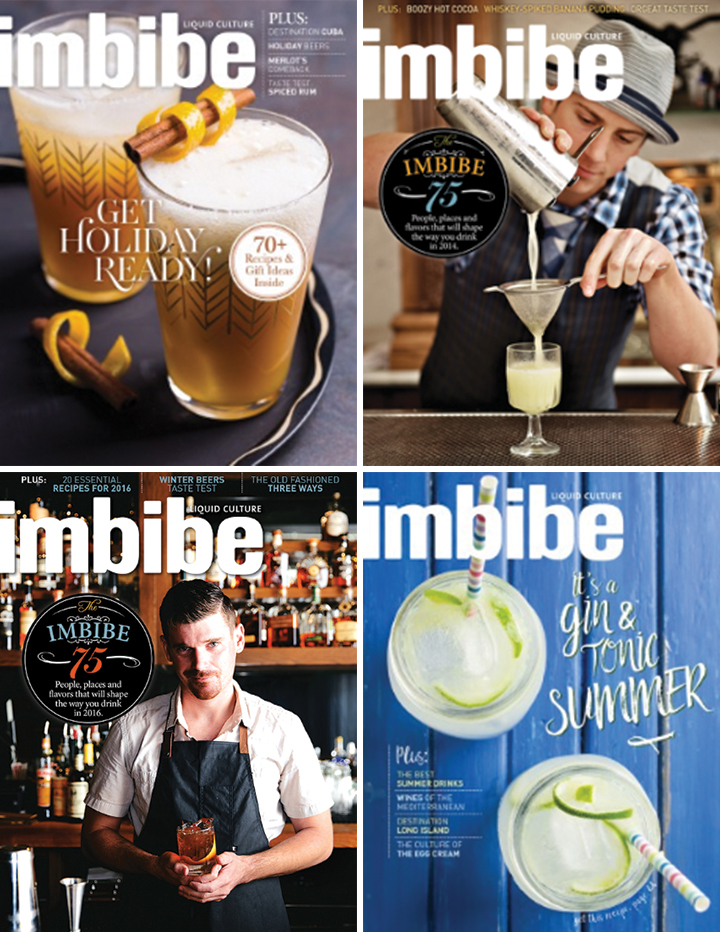 IMBIBE MAGAZINE SUBSCRIPTION!
All you want to know about liquid culture...and pretty pictures and cool people. Imbibe is my absolute favorite liquid culture magazine. I get so excited every time I see it in my mailbox. Filled with the vastness of all things in liquid culture, it opens the door to so many adventures on people, places, events, and recipes, and what to keep your eye out for. I'd recommend this present to anyone who has a curious soul. And the layout and photography really brings it all in.
$21.95 (year subscription)
Pouring alcohol into a flask is a tricky stability test that seems to always end in a mess...that may just be me…but! This stainless steel flask gets the job done every time, and is strung on a chain to hang around the neck of your favorite bottle between pours.
$10
THE ESSENTIAL COCKTAIL BOOK: A Complete Guide to Modern Drinks with 150 Recipes
There are so many cocktail books out there, how is this one different? This gem is a great one to master the basics with, answering all questions about proper technique, preparation, and a wonderful selection of classic/modern recipes!
$17
Being one who partakes on the flight madness for the holidays, this one is a gem. W&D Design does a lot of great things, but their Carry-On-Cocktail Kits are just so freakin' delightful. A classy tin filled with the essentials needed to make a perfect cocktail to accompany those on their journey. (It's for a round trip, btw.)
$24
*Cocktails currently offered: Old Fashioned, Gin & Tonic, Champagne Cocktail, Bloody Mary, Moscow Mule, and the Hot Toddy
For those who want to go on an explore tasting adventures, Flaviar's Tasting Boxes are divine. Pick between different bottle collections from a range of spirits. Their boxes also come with tasting notes, instructions on how to taste, as well as a selection of drinks. And let me just add, they are damn hilarious of a company, with great wit behind everything they do. These boxes are fun for spirit enthusiasts and also for party hosts. They're a great way to bring people together and they give your tastebuds something new.
$42 - 60
Psst. Also, the names of their tasting bottles are hilarious. Examples? Well, all right. Collections like: Power Rangers (scotch), Art Is The New Black (other spirits), Or-Gins (gin), The Canadian Lot (Canadian whisk(e)y), Game of Rums (rum), etc. Awesome, right? Right
Class up your home bar with a personalized bar runner mat! A great gift for those looking to step up with bar game!
$20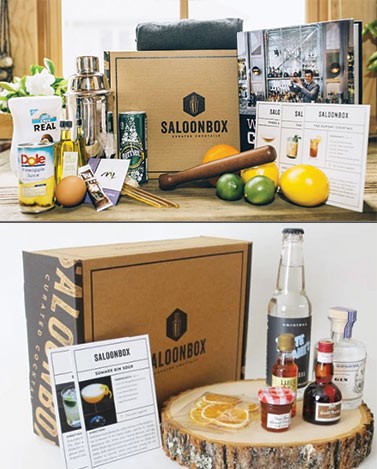 SALOONBOX DIY COCKTAIL KIT
SaloonBox is, well, awesome. Their goal is to make amazing cocktails accessible to everyone. Their subscription boxes are filled with crafty cocktail ingredients and recipes for whatever type of drinker you select. I'm not saying it's something you have sign your life away to--they have kickass gift options!
$39 (per box)
Choose to give a box you've built yourself for someone, a starter bar tool kit, or a 1, 3, 6, or 12 month prescription.
I mean, drinking and balancing things has never gone wrong...right? Don't Tip The Waiter is a fun and simple game that can be addition to any gathering.
$20
Matthew Latkiewicz's humorous guide to help navigate any drinking situation and answer any pedantic questions.
$10 - $12 (Kindle vs Physical)
AROUND THE WORLD IN 80 COCKTAILS
Explore the cocktails of the world with this fun and color that "celebrates the globetrotting history of the cocktail through eighty different iconic drinks – each of which has its own story to tell."
$14